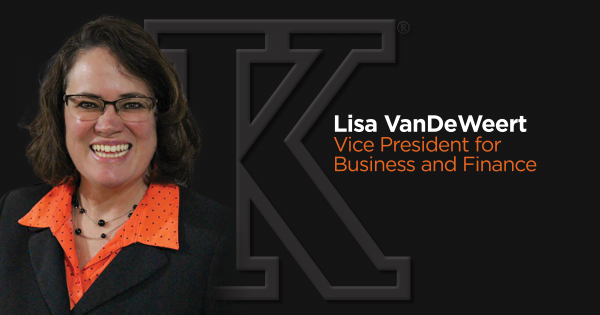 Kalamazoo College has named Lisa VanDeWeert as the institution's next vice president for business and finance and chief financial officer (CFO). VanDeWeert, vice president and CFO at Aquinas College, will begin her new role on February 16, 2022.
"Lisa brings significant expertise in higher education finance and business operations to K," said Kalamazoo College President Jorge G. Gonzalez. "Her work with a wide range of colleges and non-profit institutions, her leadership experience within a small liberal arts college, and her commitment to cultivating collaborative partnerships with various stakeholders will make her a great fit at our institution."
As Aquinas' chief financial officer and a member of the president's leadership cabinet, VanDeWeert is responsible for leading accounting, finance, information technology services, human resources, campus safety, physical plant, and operations such as conferencing and events and the campus bookstore. Prior to Aquinas, VanDeWeert served as a certified public accountant at Rehmann, supervising and reviewing audits in a variety of industries, including higher education and nonprofit organizations. Prior to Rehmann, VanDeWeert spent 15 years providing audit services and leading teams at PricewaterhouseCoopers in Grand Rapids.
VanDeWeert is a member of the National Association of College and University Business Officers and serves as CFO group chair for Michigan Independent Colleges and Universities (MICU). She also serves on the Executive Committee and Board of Directors for Goodwill Industries of Greater Grand Rapids. VanDeWeert holds a Bachelor of Science in accounting from State University of New York College at Oswego.
"I am excited to be joining Kalamazoo College and I'm looking forward to blending my skills and talents with those of the capable leaders and team members at K," said VanDeWeert.
VanDeWeert was selected after a nationwide search conducted by an on-campus committee with the assistance of Storbeck Search, an executive search firm specializing in the education and non-profit sectors. Comprised of faculty, staff and trustees, the committee was chaired by Vice President for Advancement Karen Isble.